There's literally an alphabet soup of platforms out there for sales and marketing that claim to be so good that they'll sell the products for you! You need a sales and marketing platform if you're a business owner, but which ones are the best for you? Also, are the claims that these marketing platforms make nothing more than a bunch of well versed hogwash?
Well, that's what you'll find out in this article where I compare and contrast Millionify.one's and Clickfunnels's features and explain which I think is better!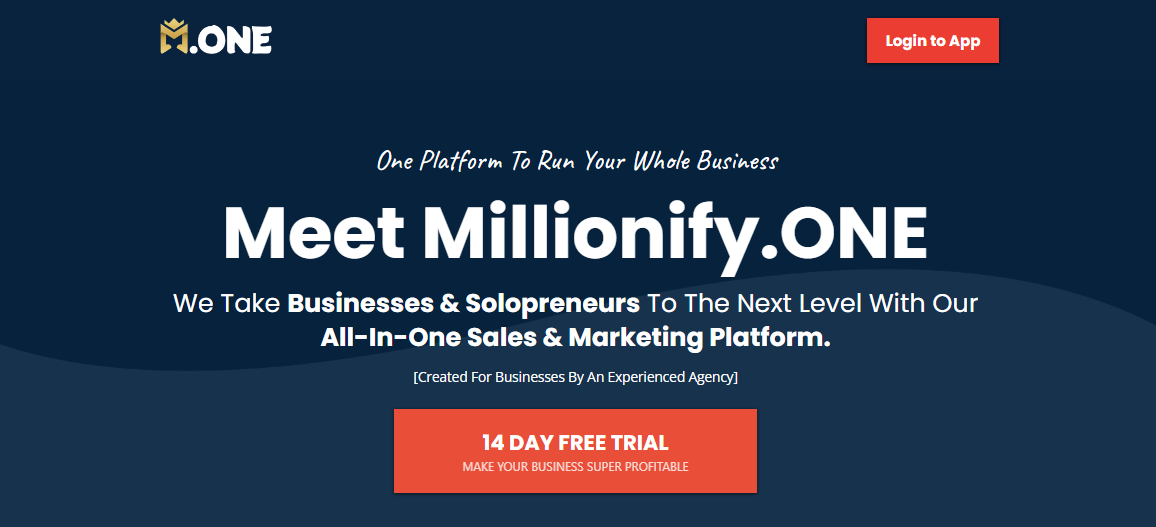 Millionify.one is for you if you're serious about taking your business to the next level. It is an all-in-one platform that has all of the sales and marketing tools you'll need to make your company a success.
The first thing that Millionify.one offers that is innovative are strategies and techniques that are guaranteed to help bring more sales in for you! Now, it's time to compare Millionify.one's platform and its tools to those of Clickfunnels to see which tools are better!
Clickfunnels is a platform that lets people create sales funnels that constantly convert quality leads. The best part is that you (and anyone who uses Clickfunnels) don't even have to know anything about sales and marketing to do that!
A great place to start when writing any type of product review is to list the plans of the products being discussed. So, that's what I decided to do with both Millionify.one and Clickfunnels.
Millionify.one offers anyone who's interested a 14-day free trial to decide if they think any of the plans are worth buying. Millionify.one offers two plans: professional and Business. The Professional plan normally costs $147 a month, but if you act now, you can buy it for only $97 a month. The Business plan costs $297 a month, but if you act now, you can buy it for only $197 a month.
If you sign up for the less expensive plan, you can get the following: unlimited websites, unlimited sales funnels, email marketing, full featured CRM with unlimited contacts. The list of features doesn't stop there. I'll list more.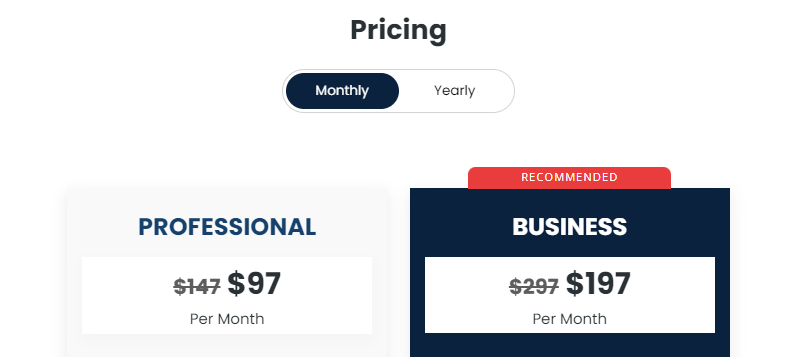 Unlimited forms and submits, unlimited team members, unlimited media library, web chat widgets (lead collection), unlimited URL redirects, incoming and outgoing phone calls, 2-way SMS and email conversations, SMS and email templates manager, GMB messaging and call tracking, full featured reputation management, FB messenger bots, and automated missed call text back.
You'll get the following features with the Business plan: all of the features in the professional plan, membership areas with unlimited members, unlimited video hosting, unlimited blogs, unlimited sales pipelines, unlimited opportunities, unlimited invoice creation, unlimited surveys, unlimited automation workflows, unlimited triggers, unlimited trigger links, coupon creation and management, calendar and appointments, affiliate manager, social media planner and manager, reporting and analysis, and Google and FB ad reporting.
Clickfunnels Plans
Clickfunnels offers three plans: the basic plan, the pro plan, and the funnel hacker plan. The basic plan costs $147 a month, but you can get it for $127 a month if you act now. The Pro plan costs $197 a month, but you can get it for $157 a month if you act now. The Funnel Hacker plan costs $497 a month, but you can get it for $208 a month if you act now.
You get more bare bones features if you buy the Basic plan. You will have access to a functional website, 20 funnels, an admin user, one domain, three courses, the ability to add up to 1,000 students, the ability to add up to 10,000 contacts, unlimited workflows, unlimited pages, unlimited products, unlimited email sequences, and basic analytics.
The Pro plan offers a bit more. You'll have access to a functional website, but you can create up to 20 sales funnels. You can add up to 5 administrators to an account and you will get up to three domains. You can add up to 15 courses and up to 10,000 students. The Pro plan lets you store up to 25,000 contacts.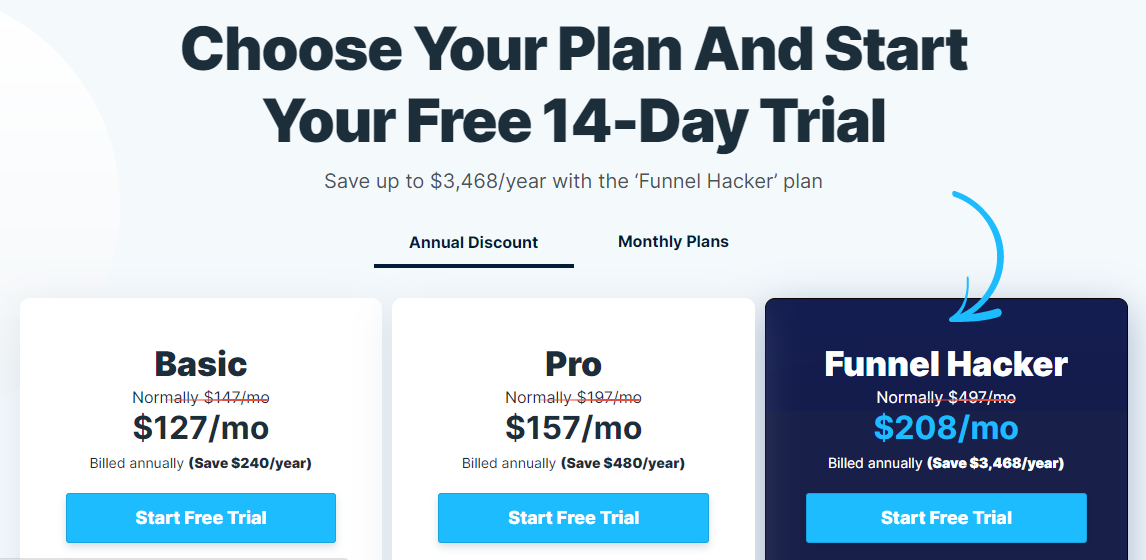 You'll get the same other functions as with the Basic plan, but then there are some extras. The Pro plan joins the ranks of the marketing automation tools that offers an affiliate program, API access, share funnels, liquid theme editor, and CF1 maintenance mode plans.
The Funnel Hacker plan offers you up to three websites. You'll also get as many sales funnels as you want, up to 15 admins on your account, 9 domains, you can add up to 200 courses, you can add up to 20,000 students, and you'll be able to add up to 200,000 contacts.
You'll get all of the features of the pro plan along with advanced analytics.
So, now it's time to do some good old fashioned comparisons. Let's start with Millionify.one again. Millionfy.one appears to trump Clickfunnels in the websites category. Millionify's basic plan offers unlimited websites, while you get only three websites with Clickfunnels's most advanced plan. So, if you're a blogger or if you run multiple websites, you would want to go with Millionify.one!
Millionify.one appears to be generous in marketing as well. It seems to live up to its claim of being an all-in-one sales and marketing platform. It offers full CRM which is important if you do any type of marketing or selling. Both platforms are a godsend for business owners because they make the selling and marketing processes relatively easy, quick, and inexpensive!
Only larger companies could do E-commerce before the advent of these types of platforms because they had to hire web wizards to design each page in the sales funnel from scratch and link those pages along with the websites pages together.
Clickfunnels offers the following features and tools in terms of web page and site design. Funnel templates, visual editors, the sites and pages work with automated email marketing campaigns, and a drag and drop builder to create every page on your site. Incientally, Millionify.one offers these features as well.
So, which platform should you use if you're a small business owner? On the surface, that seems to be a hard question to answer since both platforms offer amazing sales and marketing tools. But the answer is obviously Millionify.one when you examine the features further, and no the answer is not because I work for Millionify.one. I'm being impartial. I'll tell you why I think Millionify.one is better!
CRM
The first and most obvious reason why Millionify.one is better is based on a feature that I already pointed out - CRM. I analyzed Clickfunnels's features and realized that it's great if you want building landing pages that convert, but what about keeping existing customers happy and getting them to want to continue to purchase from you?
To be fair, Clickfunnels does offer CRM, but I examined it further and found it a bit wanting in comparison to Millionify.one's CRM. So, Clickfunnels appears to offer you tools that will let you learn about your customers needs, interests, tastes, and more based on their buying behavior. Those are invaluable since they help you craft better and more effective sales and marketing campaigns.
Millionify.one offers all of that. It also offers you excellent tools for managing your contacts. Sure, you may know that some customers like red neon bikes, and some like blue neon bikes. The issue comes when you have many contacts and you're trying to keep all of that information organized and in one place. After all, it would be disasterous to send customers who like blue neon bikes marketing emails designed for those who like red neon bikes.
You can use Millionify.one's database to store key information and details about your customers. That can aid you when designing innovative marketing campaigns. Both platforms allow you to build deep relationships built on a mutual bond of trust. Both platforms allow you to create personalized marketing emails and SMM posts.
These go far since they speak to the reader on a personal and emotional level. That shows empathy and that you care about the customer. All of these elements are necessary for repeat sales!
You can manage contacts in a single database with Millionify.one and Clickfunnels!
Landing Pages
Millionify.one passes the usability and user experience test with flying colors. Its landing pages are easy to navigate and use. Also, the drag and drop builder will let you build stunning pages even if you don't know any programming or coding. Of course, the same is true with Clickfunnels.
Usability and user experiences are vital. They're referred to as UI/UX in digital marketing and are ultimately what will decide if your website will sell anything. Most people aren't Internet gurus by nature and they'll leave a page that's hard to read, navigate, and use just as fast as they came to it. That high bounce rate will eventually make your rankings plummet - that's something that you just don't want!
Millionify.one goes one step further in the UI/UX area. Its many tools include the ability to embed forms and surveys. Just use the drag and drop creator to build them when you're creating your website. So, why is this important? It's because these forms and surveys will give you important insights and information as to how to design future landing pages and marketing campaigns.
Yes, Clickfunnels comes with an image library which makes it possible for you to 'drag and drop objects into place' when you're creating websites. But, and this is a big BUT! It's not nearly as extensive or high in quality as Millionify.one's is! Millionify.one has an unlimited media library. That gives you a lot of freedom and choices when designing websites
Finally, you may want to host an online event like a webinar or a podcast for the purpose of educating people in exchange for names and contact information. Of course, you can customize and personalize the sales funnels any way you want.
Millionify.one offers the same with its sales funnels. It does go one step further since its funnels appear to integrate into its sales pipelines. That's important since you need tools to help nurture leads as they move further and further along through the sales process and become ready to convert (make a purchase!)
Then there are the landing pages. These are crucial since they are what makes people decide if they should buy from your site. Clickfunnels has you covered here. You can use its drag and drop builder to build amazing landing pages that will do two things easily and quickly: generate lots of quality leads and generate some conversions.
The most interesting part about the drag and drop builder is that you can build these types of slick and professional landing pages even if you don't even know how to use the Internet! Amazing, huh?
Now, it's time to see how Clickfunnels's landing pages compare to Millionify.one's landing pages. Of course, Millionify.one also has an easy-to-use and intuitive drag and drop builder for landing pages. What online sales and marketing platform on the market today doesn't?
But, Millionify.one's landing pages seem to go a step further, and this is in the area of nurturing those leads. Collecting quality leads is great, but it doesn't mean much if you don't have actual conversations with them. And no, they don't have to be human conversations either. We live in a globalized world, so text based conversations will work just as well.
So, that's the area that Millionify.one shines in - text based conversations. It lets you create effective, personalized, and empathetic text based conversations over a variety of mediums, including: phone connect, SMS, MMS, email, and various social media messengers - especially Facebook messenger!
Clickfunnels claims to offer some state-of-the-art templates. That's important since website design will stump you if you're not an Internet guru! Clickfunnels has an entire templates library that are designed to help you create any type of landing page that exists.
These landing pages include: upsells, event pages, sales pages, membership sites, and more! You can A/B test these templates before you take them live to see if your customers think they're as awesome as you do. The templates are also completely customizable. That gives you many choices and a lot of freedom when designing landing pages.
Millionify.one offers the same features, surprise, surprise! So, is Millionify.one better than Clickfunnels in landing page templates? No, I'd say that they're the same in that feature!
Clickfunnels has an easy to use editor. So, you can always go back and change something that you don't like on a published page. Millionify.one offers the same feature. So, they score the same points on this feature.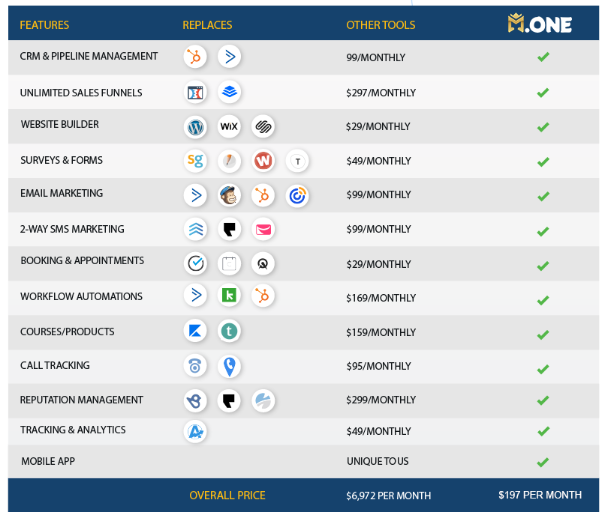 The pages that you create on either platform will be responsive. Put in plain English, they'll load at faster than the speed of light, they'll look impressive, and they'll have great design and layout. You don't even need to hire a good content writer to create impressive content that will convert. The platform's AI features will take care of all of that and more for you!
You can integrate Clickfunnels to other platforms. Some of the major ones are ActiveCampaign, Actionetics, and Constant Contact. These platforms are easy to integrate and work beautifully with Clickfunnels once integrated. The same is true for Millionify.one!
There is one feature that Clickfunnels offers that Millionify.one doesn't appear to. It's the share funnels feature. Suppose you run a vegan dog food business and one of your friends does too. Also, suppose that your friend has a gre at sales funnel that you know would work wonders at generating quality leads for your business.
Well, now you can copy your friend's sales funnel and paste it into your own account. You can use it just like you've created it yourself once you've done that!
Millionify.one offers an affiliate program. Since most sales and marketing platforms offer affiliate programs, so does Clickfunnels. It's called Backpack. So, it's an easy way to grow your business. All you do is sign up people who are willing to sell your products for you. Then you sign them up and collect a percentage of what they sell as commissions.
Millionify.one offers social media marketing. That's important since most people turn to social media platforms to research brands before they'll buy them. There's a reason for that. They want to know how the brands are really like from people who have actually used them!
Clickfunnels appears to offer that, but it's not nearly as extensive or effective as Millionify.one's is!
Millionify.one also rocks it in terms of customer service. That's important since customer service is what keeps customers happy enough to want to continue to buy your brands. Clickfunnels doesn't appear to offer this.
So, the platform you choose is important when you're trying to make your business a success. If that's the case then you should go with Millionify.one. It was designed as an all-in-one sales and marketing platform, so it has features that Clickfunnels doesn't appear to offer. Sure, Clickfunnels lets you capture leads, but there's a lot more to selling than capturing leads. Marketing and customer service are even more important, and Millionify.one rocks on both counts!